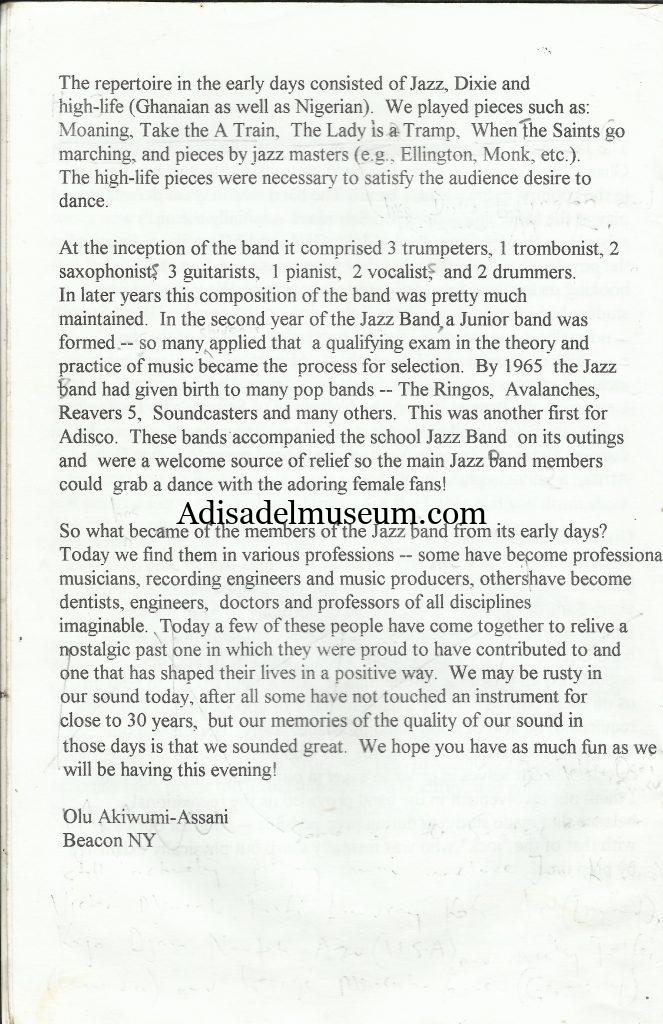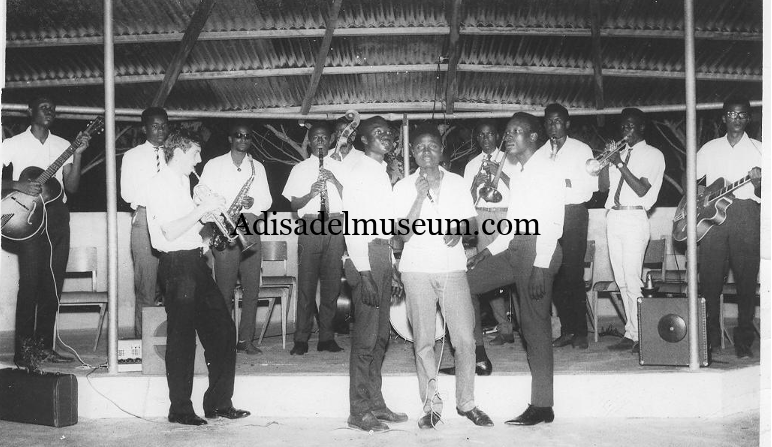 Jazz Band & Orchestra
Another component of the pioneering endeavors of Adisadel College was the establishment of a school orchestra and a Jazz Band. Through the efforts of Dr. Gillette in the early sixties, this great tutor of Adisadel acquired musical instruments for the school. It was the first school in Ghana to establish an orchestra.
The school has provided opportunity to musically inclined students to develop their talents. With a repertoire from Jazz to local hightlife, Adisadel Bands made appearances on national TV in the late sixties. The string of student band groups from Adisadel continues to this day.
Of the many Adisadel alumni recording artists, perhaps the best known is Dr. A.K Amponsah, popularly known as Agya Koo Nimo. This great Ghanaian folklorist's work can be found all over the world. Among the great guitarists at the school in the early fifties with Koo Nimo were Messr. Service, Nugent and Hammond, the brother of pioneer musician Kwa Mensah. The late sixties also spawned lots of Adisadel musicians who went on to become great recording artists. Among them are: Canada based guitarist Carl Ricky Telfor of Sika Ye Mogya fame, ace drummer Kofi Adu of Boombaya, Benjerry Telfor of Boombaya, Frankie Todd of El-Pollos and Psychedelic Aliens, the late keyboard wizard and producer, Jonathan Opoku (Jon Kay), guitarist Sam Mensah and England based classical guitarist, Gilbert N. Addy.
The school orchestra flourished in the seventies. Great Adisadel violinist include Dr. Jonas Addae, C.B. Annan and Decker (Paganini). The Adisadel Alumni Band continues to thrill audiences at Alumni parties in England.
Currently there are three school bands, namely: The School Band, Flames of Revival and Advent Melodians.  The student band entertains students on campus and tours per invitation.           
Entertainers
Terry Adjatey (Terry Bonchaka)
A humble soul, full of promise, versatile  and brave I run into the late Terry Adjatey (Terry Bonchaka) at Adisadel College in 1998 when we enrolled as students on the Hill. Terry was never afraid to voice his opinion.
His humility endeared him to all and sundry. He sounded and appeared hilarious generally and would do anything to put a smile on another's face. Soon, Terry gained notoriety beyond Adisadel College. He was a down to earth person who got along with everyone.
The late Terry Bonchaka was studious regardless of his friendly attitude. However, I was privileged to share both classroom and Boarding House with him for three (3) years. Our chosen academic program, General Arts demanded intense reading. That explains why he spent most of his time at Upper School studying. Returning to Aglionby House sometimes late at night. Nonetheless, Terry ensured he did not miss any detail on campus. He was the "man who knows"
During the preparation towards the Inter Houses Football Competition everyone was putting a foot in for selection and as I stood by I could only hear a soft but loud voice. Curious to know who it was, it turned out to be Terry Bonchaka who had been selected to represent Aglionby House as a Goalkeeper. Aglionby House underperformed and eliminated at the preliminary stage but Terry with his antics interspersed with music and jolity left an indelible imprint on the minds of spectators.
The late Terry Adjetey was the grandson of one of the late Speakers  of Ghana's Fourth Republican Parliament, Mr. Peter Ala Adjetey.
A versatile Aglionbyte the late Terry invested some of his time in music and was a delight to watch during Entertainment times on the Hill and beyond Adisadel College.
His devotion to music took him to beach where training his vocal cords ensued. At Aglionby House there was a night I run into Terry in the Senior's bathroom where he was literally pouring a gallon full of water down his throat without gagging. And it was a part of his routine voice training. The late Terry Bonchaka was deeply involved with music and would do whatever it takes to get the music out of him.
Through music he was able to endear everyone to himself. His musical talent was widely appreciated amongst Cape Coast Senior High Schools. It was his religious devotion to music that catapulted him to the National stage where he did Adisadel College, his classmates and Aglionby House proud. Terry was affable, conscientious, hard working and a gem of talent until his passing in 2003. He was a proud Aglionbyte. Fondly remembered by Aglionbytes including myself and his Classmates, may his soul rest in perfect peace with his Maker.
Charles Pokoo
(Aglionby House 2000)
Agya Koo Nimo
Mr. Addison
Buk Bak